Mario Kart 7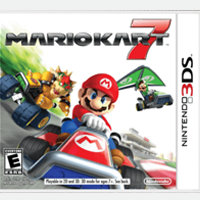 Mario Kart 7 Rom is a popular Mario-themed kart racing game released by Nintendo in 2011. The game is co-produced by Nintendo EAD and Retro Studios and was first released on the Nintendo 3DS game console platform. Like its predecessors, you'll play as one of seventeen Mario characters to race on various Mario-themed tracks. Try to take advantage of power-ups to dominate the race and thwart rival racers.
The game adds several new features, including the ability to drive underwater, the ability to drive in first person, and the ability to customize the structure of the kart fully. At the same time, it also supports multiplayer mode. Up to eight people can race together simultaneously. Mario Kart 7 is appreciated for its quality graphics, new additional items, new music, and gameplay. It is Nintendo's best-selling game on the 3DS platform, with nearly 19 million copies sold worldwide.
Gameplay
Mario kart 7 3ds rom allows players to take on the role of a total of 17 different characters, including Mario, Luigi, Wiggler, Honey Queen, Lakitu, Metal Mario, and others, to participate in the traditional Mario Kart races. The system is designed according to many different themes. On the track, you can collect power-ups to speed up your racing car and eliminate opponents. These include Koopa Shell, Banana Peel, Super Mushroom, POW Block, Mega Mushroom, Thunder Cloud, and some brand-new items. In addition, you also need to pay attention to collecting Coins to increase the maximum speed of your kart. Up to 10 Coins can be collected by the player in each race.
The game adds 3 new items to increase the entertainment of the fierce races. The first is Fire Flower, which helps players shoot up to ten fireballs to attack opponents. Next, Super Leaf will add a tail to the player's kart, helping them flip over nearby players to collect nearby Coins and deflect items, making it difficult for other riders. Finally, Lucky Seven is a unique gift that allows players to collect seven items at once.
Mario Kart 7 citra also adds a new control mechanism in addition to the traditional control of the franchise. You can use the Nintendo 3DS gyroscope to navigate the kart by tilting the entire game system. In this mode, the race screen will switch to a first-person perspective. In addition, a new skill for racers has also been updated, called the jump action, which allows your kart to accelerate for short periods while driving off the ramps.
Exciting game modes
Mario kart 7 rom download retains the franchise's four familiar game modes, including Grand Prix, Time Trial, Balloon Battle, and Coin Runners. Grand Prix is ​​a mode where you'll race against seven computer-controlled opponents in one of eight trophies, each with four tracks. Your score will be updated based on your finished position in each race. At the end of all races, you will receive one of three trophies, gold, silver, and bronze, if you finish in the top 3 places of the race.
Time Trial, as its name suggests, is a mode where your goal is to break your own race time record. You will race alone and try to finish the track in the fastest time possible. The trefoil is the only item available in this mode, with the function of speeding up your kart to shorten your finish time.
Balloon Battle and Coin Runners modes are multiplayer modes. You'll enter a special race with your friends, drive around one of six arenas to collect items, and attack your opponents to score points within a two-minute time limit. At the end of the time, the player with the most points will be declared the winner.