How To Play Pokémon Games On Your iPhone
Monday, 21/11/2022 16:27 PM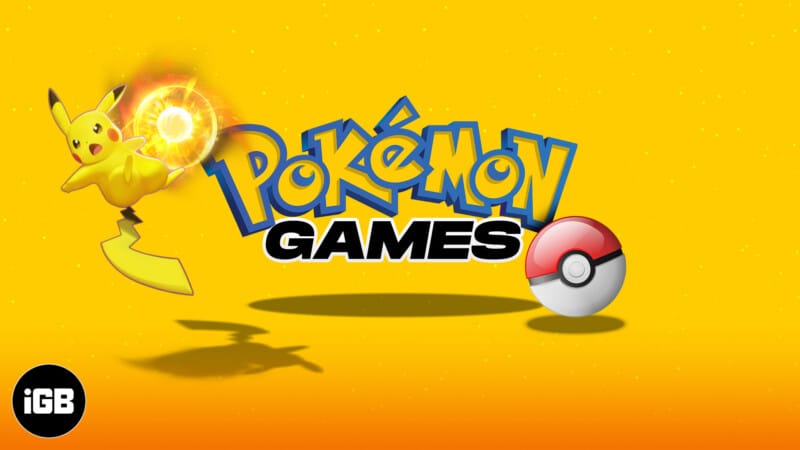 Pokémon has been a Japanese cartoon classic since its debut in 1996, and the games inspired by the movie have shaped the childhoods of many gamers. Whether you're an avid fan of the series and want to play every mobile game inspired by it, or you're a casual iOS user looking to reminisce about your good childhood, the request to play Pokémon games on iPhone is still very practical and a topic of interest to many people.
Adventures Pokémon right on your phone. However, with more classic games like Pokémon Red, Pokémon Blue, or Pokémon Silver, which are only available on consoles like the Game Boy, or Nintendo, iOS users will need a little more know-how. to play them on your device.
Today's article will show you how to download and use an emulator to play classic Pokémon on your iPhone. If you don't understand clearly what an emulator or ROM is, we will explain them and guide you now.
Emulate Classic Pokémon Games on Your iPhone
In the past, gamers who played classic Pokémon would use consoles, such as PS1, Game Boy, or Nintendo. They would input discs of games into the console's player, and the machine would project the game onto an electronic screen. For your iPhone device, you will need modern "game discs" and "game console readers" to be able to play these games.
Acting as a "game console reader" on your device is the emulator. An emulator is a computer system simulation software that helps you turn your iPhone into a video game console once it is installed and started up. If you want to play games for any console brand, you need to install that brand's emulator.
Next, you will need the ROM version of the game you want to play. ROM acts as the "game disc" for the console. More specifically, it's the software version of the video game and connects smoothly to the emulator you've installed to stream the game onto your iPhone.
Just as a game disc can work on many different consoles, a game ROM file can also interact with multiple emulators, with a precondition that the original game is compatible with the brand to which you apply the emulator.
The best emulators on iPhone today emulate popular game consoles like Game Boy, Game Boy Color, Game Boy Advance, and Nintendo DS. However, the latest consoles, like the Nintendo Switch, do not currently have standalone emulators. The reason is that their configuration is much higher than the processing capacity of the latest iPhone devices.
Where to Get Pokémon ROMs for Your iPhone
Before we discuss which emulators to use and install them, you need to prepare the software versions of the games you want to play or the ROMs files. You can search for the name of your favorite game on Google with the keyword "ROMs" to quickly access the numerous free websites available to help you download these files to your device. Pokémon-related games are trendy, and it won't take long to find someone sharing the ROM file of your favorite game.
While downloading game ROM files are free and completely legal, matters get a bit more complicated when you want to create ROM files of the original games you own. The legal policies of the major game companies state that you are legally entitled to develop ROM files for the games you own, but it is illegal to share ROM files with people who are not registered to purchase the games. Therefore, choose a reputable website to download ROM files to avoid unnecessary legal troubles.
How to Install the ROMs and The Emulator
After successfully downloading the ROM files of the games, you will need to search for an emulator for your device. Currently, the App Store does not provide any emulators available for you to download immediately. However, you can still take advantage of the tips we share below to install the emulator for your iPhone device successfully.
First, you'll need to visit the popular alternative App Store stores to search for the name of the emulator you want to use. The top sites commonly used by iOS users are iEmulators.com, OPERATIONiDROID.com/appmarket, Ignition.fun, TweakBoxApp.com, and many more. Select the emulators you want, download them, and click Install.
When asked, confirm that you trust the application developer to provide the emulator for a smooth installation. More specifically, when you see an iOS or iPadOS warning asking for permission to install your emulator, you need to follow these steps: Go to Settings > Settings > General > Device and VPN management > Select the emulator application developer name > Click Trust or Install App.
Currently, the best emulators for iPhone include Delta (Nintendo emulator), GBA4iOS (Game Boy emulator), iNDS (Nintendo DS emulator), PPSSPP (PlayStation Portable emulator), and Provenance (Atari, Sega, and Sony emulators). You can optionally choose the emulator you want, and make sure the original game works on the emulated console brand.
All Types Of Pokemon Games You Can Play
Today's mobile devices allow you to play almost any Pokémon game easily and quickly when you already have the emulator and the necessary ROMs. If you are too familiar with the classic Pokémon games, you can try to experience the latest games exclusively for iPhone devices. These games don't even require emulators or ROMs; you just need to download and install them to experience them quickly. Below, we'll take a look at the best Pokémon available on the App Store.
Pokemon Go
No need to introduce much about this game anymore; it exploded in the world in 2016 with a strong spillover effect in the gaming world and also in the media. At the time, the game made a great connection, encouraging players to go out and explore the local surroundings in search of the best Pokémon.
If you are new to the game, it possesses extremely innovative gameplay. Players will use the phone's camera and connect the GPS to the map in real-time to search and collect over 900 different Pokémon. You can then summon these Pokémon, train them, and battle your friends.
Since its launch, the game has received countless positive reviews and more than 500 million downloads from a large community of players worldwide. For now, the game is operating as usual, and the manufacturer continues adding new features and Pokémon to maintain its appeal.
Pokemon Masters EX
Pokémon Masters Ex takes a different approach to regular Pokémon games. You won't collect the Pokémon, but their trainers. Each trainer will connect to a unique Pokémon. You must find a way to work well with the trainer of the Pokémon to train them well before engaging in intense 3vs3 battles.
The game has a fairly long storyline, and it will take some time for you to unlock all of the game's new stories, characters, and challenges. Despite being judged to lack a sense of adventure compared to other Pokémon games, this game has a pretty good story that longtime fans of the original movie will love.
Pokémon Quest
This fun game will turn all Pokémon into cute cubes. Your mission in the game is to collect as many Pokémon as you can, assemble the perfect team, build a strong base, and train Pokémon to defeat Pokémon the vicious wild
Although its gameplay differs slightly from Pokémon games, it still shows great appeal. High-quality graphics, creative character creation, and eye-catching battles will make you quickly addicted to the game and immerse yourself in it for hours.
Conclusion
Today's article has summed up everything you need to know about using emulators to play Pokémon classic Pokémon available on the App Store. Hopefully, the knowledge from the article will be useful to you and help you have a relaxing time full of entertainment with attractive games about Pokémon.