Mario Kart Wii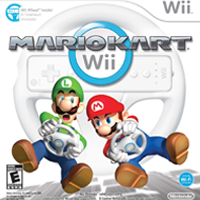 Mario Kart Wii is a classic racing game produced, developed, and marketed by Nintendo exclusively for the Nintendo Wii. The game was first released in April 2008 and is the 6th game in the popular Mario Kart franchise. Players can take control of famous characters from the Mario series to participate in exciting races spanning over 30 diverse tracks and take advantage of special items to hinder their opponents or gain an advantage in the race.
The game received a great response from the gaming community and professionals right after its release, with most of the praise for its engaging gameplay, diverse racing tracks, interesting characters, and other features. Attractive game mode. Mario Kart Wii is the second best-selling game in its franchise after Mario Kart 8 Deluxe, with over 37 million copies sold worldwide.
Gameplay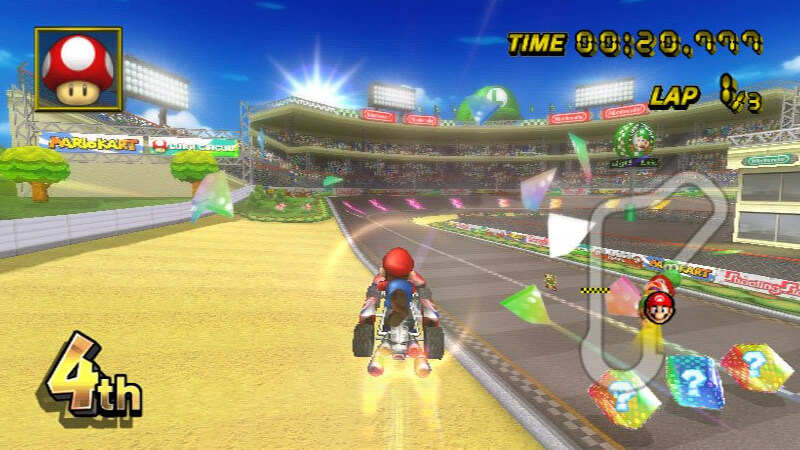 Mario Kart Wii retains the gameplay of the previous parts. Joining the game, you will control characters from the popular Mario series, including Mario, Luigi, Princess Peach, Yoshi, Toad, Donkey Kong, and Bowser, to participate in races or battles by using a go-kart or bicycle. Other characters can be unlocked later through completing in-game quests, such as Rosalina or Dry Bowser. In total, you can control 24 different characters in Mario Kart Wii.
The game offers a third-person perspective, allowing players to watch the race from behind their karts. It uses Wii Remote, a system that simulates steering wheel movements, to provide an intuitive and conventional driving control experience. In addition, players can also use other devices, such as the Wii Remote with Nunchuk attachment, the classic controller, and the GameCube controller, to enjoy the game.
Players will take part in 30 diverse and thrilling races, with their themes based on famous locations in the Mario series. Special items Will be scattered throughout the track, providing special abilities for players to take advantage of. Some items can help the player attack opponents, causing them to slow down or lose control. In contrast, others can protect the player's vehicle against the opponent's attacks or accelerate the player's car. In addition to the familiar foods you can find in previous franchise installments, such as Mushroom ammo, Koopa Shell, Super Star, banana peel, and lightning bolt, the game also introduces some new items like Mega Mushroom and POW Block.
The game adopts an important gameplay change from its predecessor Mario Kart DS, where each character is assigned to one of three weight classes (50cc, 100cc, and 150cc)instead of characters being able to drive karts exclusively for that character and the standard go-kart. Therefore, choosing a vehicle for the character will be significantly different. Mario Kart Wii offers 36 different vehicles for players to experience, including karts and bicycles, and each of them will have different attributes. To win the race, You need to have a deep understanding of the attributes of each vehicle.
Four Engaging Game Modes
Mario Kart Wii offers a variety of game modes, both single-player and multiplayer, including Grand Prix, Time Trials, Versus, and Battle. Grand Prix is ​​the game's default mode, where you will participate in four three-round races with eleven competitors and receive points corresponding to the ranking at the end of the race. The Time Trials is the mode that requires you to quickly complete the race in the fastest time possible on an unopposed track.
Versus is basically the same as Grand Prix, but it supports multiplayer, so you can join your friends. At the same time, this mode also allows players to customize special items and track designs. Finally, Battle is Mario Kart Wii's most engaging mode. Up to four players are divided into red and blue teams, and all riders will drive around a closed arena and attack the opposing team with special items.